Last Saturday I made my first visit to a Madison landmark: the Kohl Center, the home arena for the University of Wisconsin-Madison Badgers men's and women's basketball and men's hockey team. I wasn't there to see any of them, though; I was there to see the Badger women's hockey team. They normally play at their own facility, LaBahn Arena, but on Saturday they took over the Kohl Center for the Fill the Bowl game, their usually annual attempt to break the NCAA women's hockey attendance record. Rather than keep you in suspense, I'll tell you right up front that they succeeded: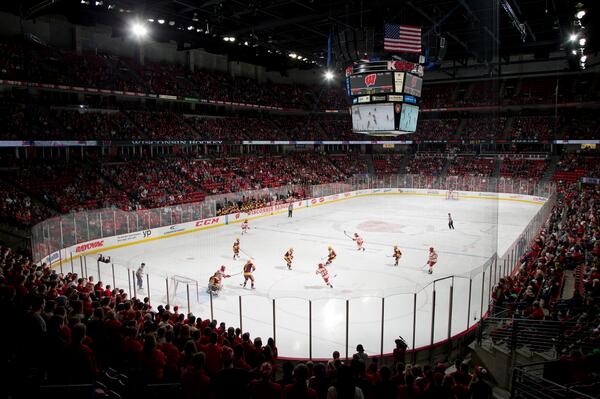 Image via Badger Womens Hockey on Twitter

The official attendance was 13,573, shattering the old record of 12,402, set at the 2012 Fill the Bowl game. (They didn't do a Fill the Bowl game in 2013. I don't know why.)

Attending a game at the Kohl Center is very different from attending one at LaBahn. For one thing, the Kohl Center has two Zambonis instead of just one. Also, there was a pep band: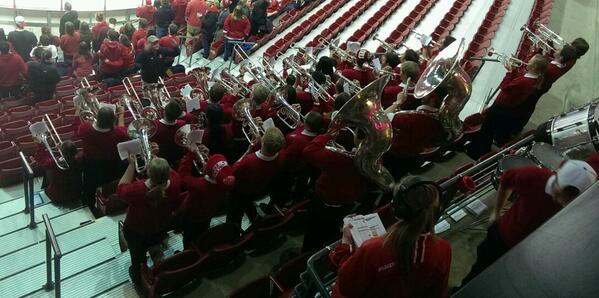 Image via Jeff Palkowski on Twitter

Not to mention a large, energetic student section. At LaBahn, they make do with recorded music, and the student section is very small (but dedicated). And unlike LaBahn, the Kohl Center has a huge overhead scoreboard and neat spotlights that project large, rotating images of Bucky Badger and the Motion W on the ice: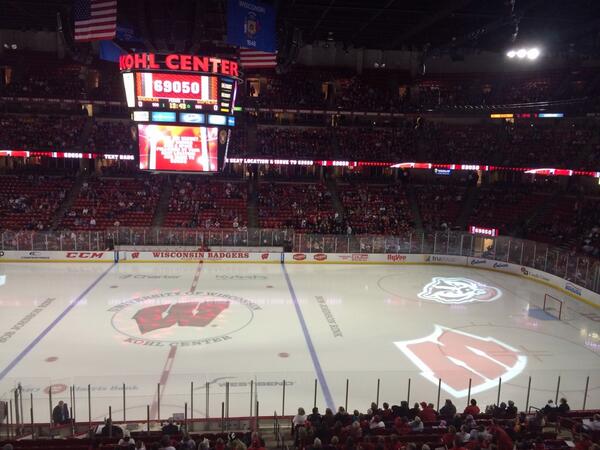 Image via Tessa Ruid on Twitter

But of course the biggest difference was that there were 11,000 more people there than LaBahn can even hold. Unfortunately, that was of no help to the team; University of Minnesota blanked us, 4-0. Which wasn't much fun to watch, but on the plus side, they did set the attendance record, and the associated canned food drive garnered in excess of two tons of food for Second Harvest Foodbank of Southern Wisconsin: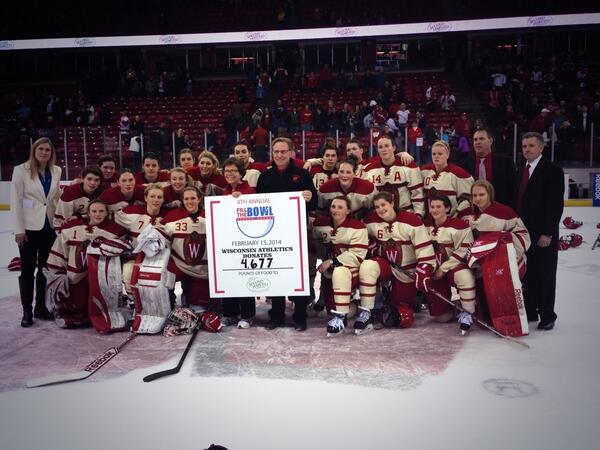 Image via Wisconsin Badgers on Twitter

All in all, it was a pretty entertaining way to spend a few hours on a Saturday. Yes, it would've been more fun had we won, or if my sister hadn't gotten sick and had been able to join me as originally planned, but I still enjoyed watching the teams play, and I also liked the novelty of being at a heavily attended college athletics event, which is something I've only done once before. (The other was a University of North Carolina football game in 1992.) I wouldn't be surprised if I find myself back at the Kohl Center for next year's Fill the Bowl game.